Volumes 2, 3 and 4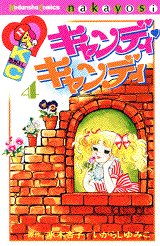 Volumes 2 and 3 are not very distinct from the anime. They are mainly about Anthony's death and Candy's departure for England. This is there she meets Terry. This is also there that are strongly emphasized the feelings of love of Archie and Stair towards Candy.
An important difference appears then in volume 4, the one referring to Candy and Terry's first kiss...
Thus, in the manga, Terry kisses Candy for the first time during May Festival while they are dancing on the hill. In the anime, in the contrary, the scene takes place in Scotland, by a lake.


"Even the monkeys look good with new set of clothes..."


Candy dances with Terry on Anthony's music. She remembers then those tender moments which stirs up Terry's jealousy...
...who kisses her... but she slaps him...

...as he slaps her in return...
"Anthony, always Anthony ! But he's already dead !"
One important scene is skipped in the anime. It happens in Scotland, after Terry has made it up with his mother, more particularly after Candy and Terry have warmed themselves up in front of the fireplace of the Grandchester Mansion. Terry invites her to see the old plane in which his ftaher used to fly, and begins to show to Candy some signs of tender affection...
Elisa, who has just attended the whole scene will promise to herself to make Candy pay for this. And we already know she will succeed in it unfortunately...
(to be continued...)