Volume 1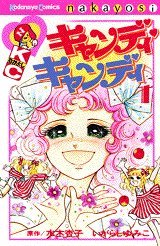 1- In the anime, Candy is discovered on a snowy day while it happens on spring in the manga.
2- In the anime, Candy sacrifices herself and uses a ploy to have Annie adopted instead of her. In the manga, Annie is the first and last Brighton's choice.

3- In the manga, Klint does not exist. Only Poupee exists, this little skunk that is always at Albert's sides.
4- In the manga, Candy went at the Leagan/Regan's by car which implies that they lived far from Pony's home, while in the anime, she went there on foot and by cart.